Flawless Elegance: Makeup Essentials to Enhance Your Natural Beauty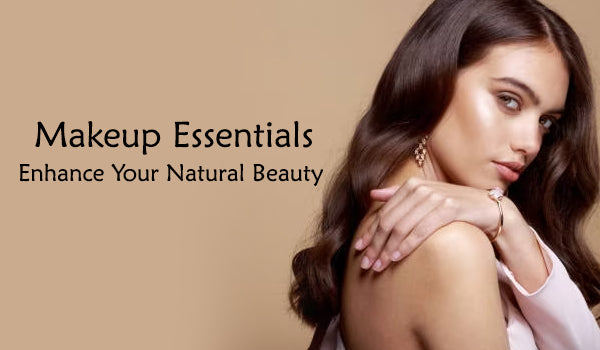 Welcome to a world of timeless beauty and effortless charm. In the realm of makeup, there exists an art that celebrates and elevates your innate allure – a journey guided by the principle of "less is more." In this blog, we embark on a voyage through the realm of Flawless Elegance, where makeup essentials harmonize with your natural features, enhancing rather than concealing the beauty that is uniquely yours. 
We dig into the secrets that embrace authenticity, from the lightest touches that highlight your brilliance to the transformational effect of confidence-boosting touches. Join us as we share the secrets to revealing your true, gorgeous self, whether you are an expert in cosmetics or are only beginning to dive into this delightful world.
Unlock Your Radiance: Mastering Foundation for Your Best Look Yet!
A perfect foundation creates an impeccable palette in the pursuit of dazzling beauty. Learn how to perfect the foundation application process, a key step that may make or break your makeup regimen. This trip reveals the tricks to getting a look that's as natural-looking as it is alluring, from selecting the ideal shade that smoothly blends with your skin tone to mastering application techniques that provide an airbrushed finish. Let's explore the realm of a long-lasting foundation, where self-assurance and complexion work in unison to give you the glow you desire whether you're aiming for an everyday glow or getting ready for a big occasion.
Featured herein are the multipurpose wonders of Photo Focus foundation, the velvety allure of matte foundation, and the enticing intensity of high pigment foundation, each of which is a masterpiece in and of itself. These versatile foundations embrace both oily and dry skins without missing a beat, transcending the limitations of different skin types. Discover a face that radiates vitality and radiance as these foundational wonders combine to create an appearance that is nothing less than flawless. So start your journey into beauty by blending and combining these powerful elixirs to reveal a symphony of immaculate wonder.
Discover Your Glow: Elevate Your Look with Nourishing Skin Care Products
A natural foundation can help you reveal your genuine brilliance because it is a magical potion that gives your skin a brilliant sheen while also nurturing it. Imagine waking up each morning with a boost of confidence, a burst of inspiration, and the contentment of knowing that you are putting your best foot forward. However, your skin's health should never be sacrificed in the name of attractiveness. Enter the world of premium goods, where the HD foundation rules supremely, promising not only eye-catching design but also unrivaled quality.
Your days are a composition of moments performed outside the comfort of your home, and each new day brings with it a fresh opportunity to grab the limelight. There is no time for touch-ups or second thoughts in this life-whirlwind. This is where the 24hr lasting foundation comes into the picture. It is a crucial ally that makes sure your glow is constant from the first light of dawn to the enchanting night. 
Master the Art of Flawless Makeup 
An even makeup application calms the eyes, and a natural finishing provides the best appearance. Your ability to present yourself well and make use of cosmetics nowadays more than ever determines how attractive you appear. Due to its rich and delicate texture, velvet matte liquid lipstick in Pakistan is one of the hottest choices in makeup necessities. A high coverage foundation is an ideal product to use if you have acne or scars. You can conceal these blemishes with a natural appearance and protect your skin at the same time. 
Defy Rain and Moisture with Pro Long Wear
One product stands out as your beauty's defense against the drizzle and moisture: a full coverage foundation with the incredibly rare pro-long wear characteristic. Makeup has evolved into a resilient and elegant combination. This technological marvel offers a faultless exterior that outlasts the weather and elevates beauty to durability. With matte oil-free products, your makeup takes on a strategic role and becomes a steadfast appearance that successfully navigates the most challenging environmental conditions.
Nurturing Beauty: Elevate Your Skincare Routine and Perfect Your Makeup Base!
The most crucial aspect of beauty is skin care since it is an investment in the exquisite canvas that contains your charisma. The basis of your creativity, a makeup base, is where the magic really starts, though. The alchemy of a base for makeup creates a canvas without blemishes and a masterpiece that endures. And when it becomes necessary to conceal, a foundation stick enters the picture, turning flaws into just echoes of the past. The vibrancy of your skin's beat is the star of this self-care symphony. Make an informed decision since the healthiest skin is the ultimate luxury in the world of beauty.
Conclusion
The importance of skincare and makeup products cannot be overstated in the search for radiant beauty. Authenticity and consistency are essential for preserving skin health and boosting natural beauty. The cornerstone of cosmetics and foundation, impacts especially when it is matched to your particular skin type. From sunrise till night, a symphony of high-quality products, like HD foundation, act as a screen against the harsh outdoors. Elevate your elegance, accept enduring perfection, and allow your genuine charm to shine through at all times. 
Posted in

24hr lasting foundation, base for makeup, Concealer, eye care, eye liner, eye shadow kit, eyeshadow palette, Face Powder, face powder online, facial kit, Foundation stick, HD Foundation, highlighter makeup, lipstick shades, Lipsticks, liquid foundation, long lasting foundation, long wearing foundation, Makeup, makeup base, makeup remover, matte foundation, matte oil free, maybelline concealer, Natural Foundation, powder Foundation, Rivaj Cosmetic, rivaj sunblock